The specialist workspace for medico-legal experts.
The convenient, easy-to-use workspace that allows you to securely store, organise and complete your medico-legal work in the cloud.
Making it simple to get work done.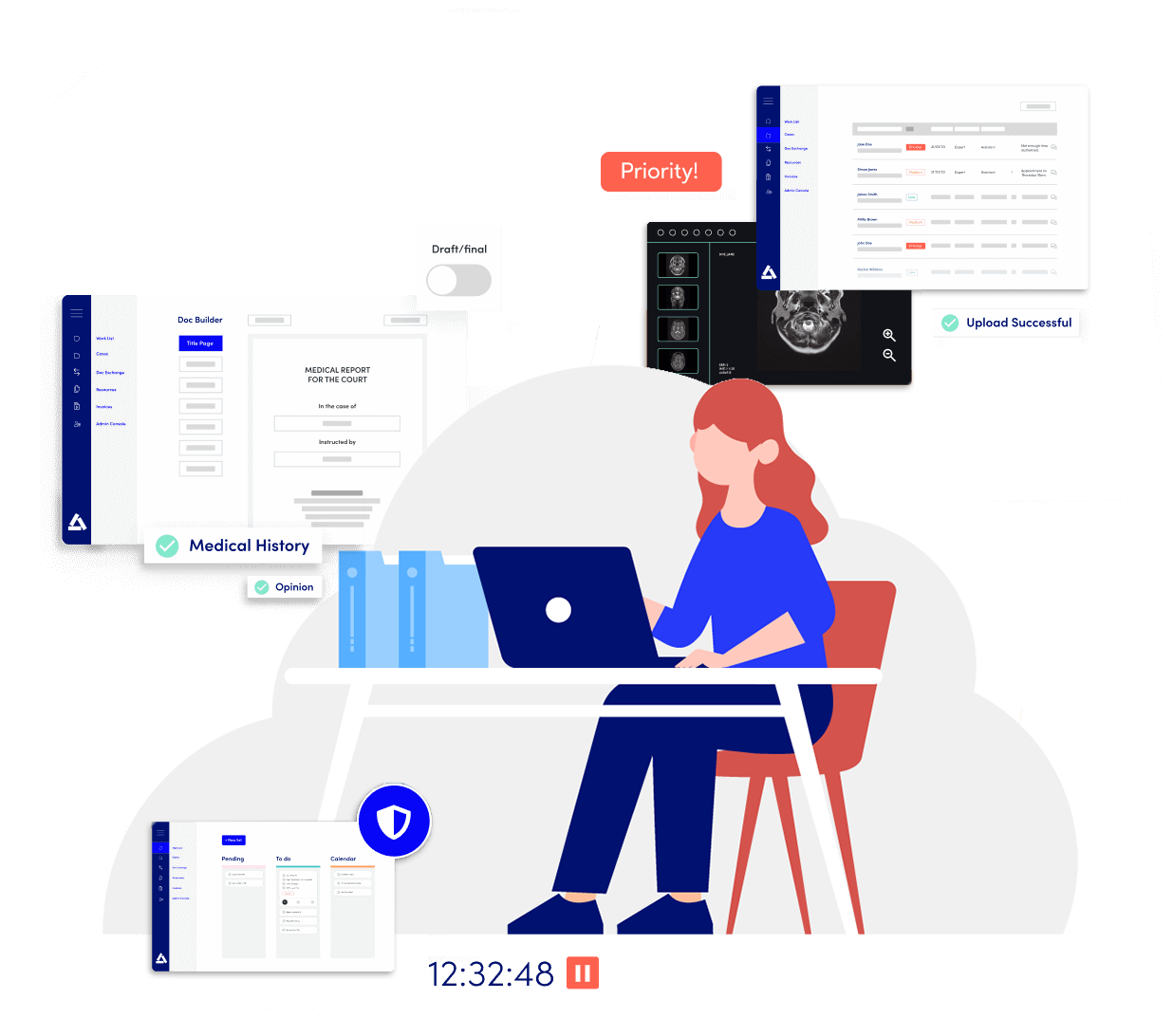 What can ALLDOQ do for you?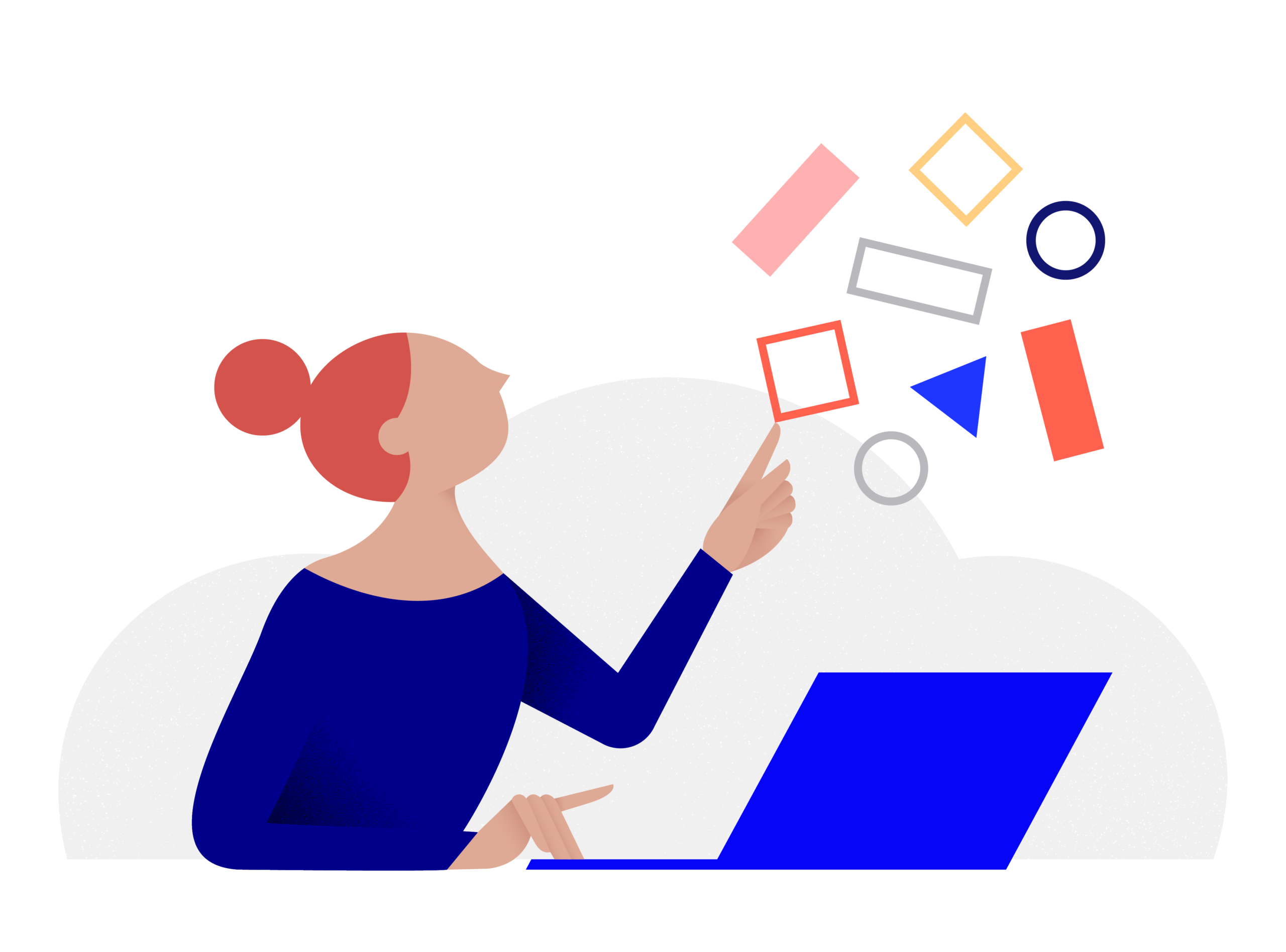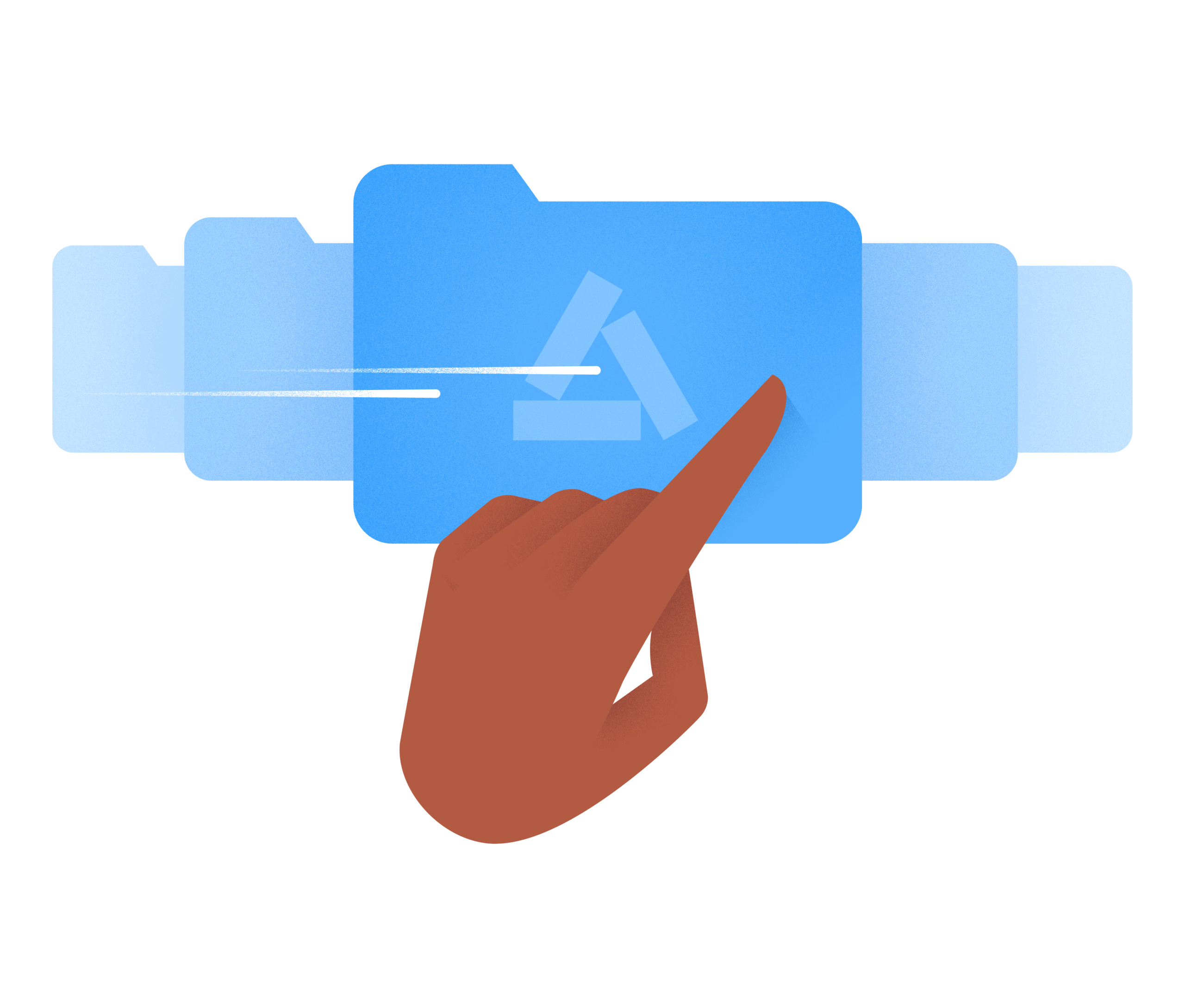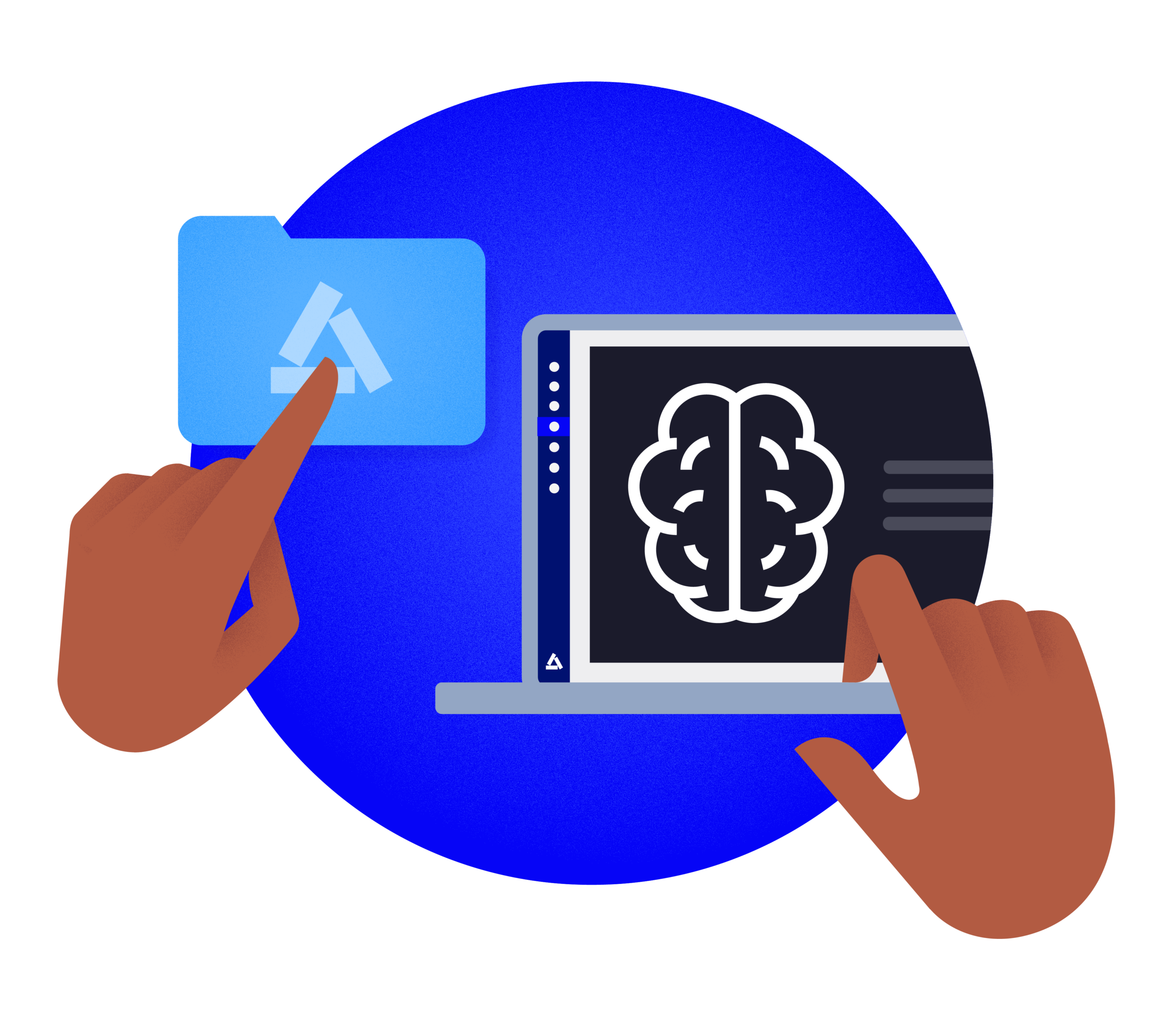 Logical, customisable folder structure developed with leading expert witnesses.
Find what you need quickly and easily.
Tailor your workspace to suit you.
Keep track of your priorities, where you are on each case and what needs to happen next with automatic case timelines and overviews.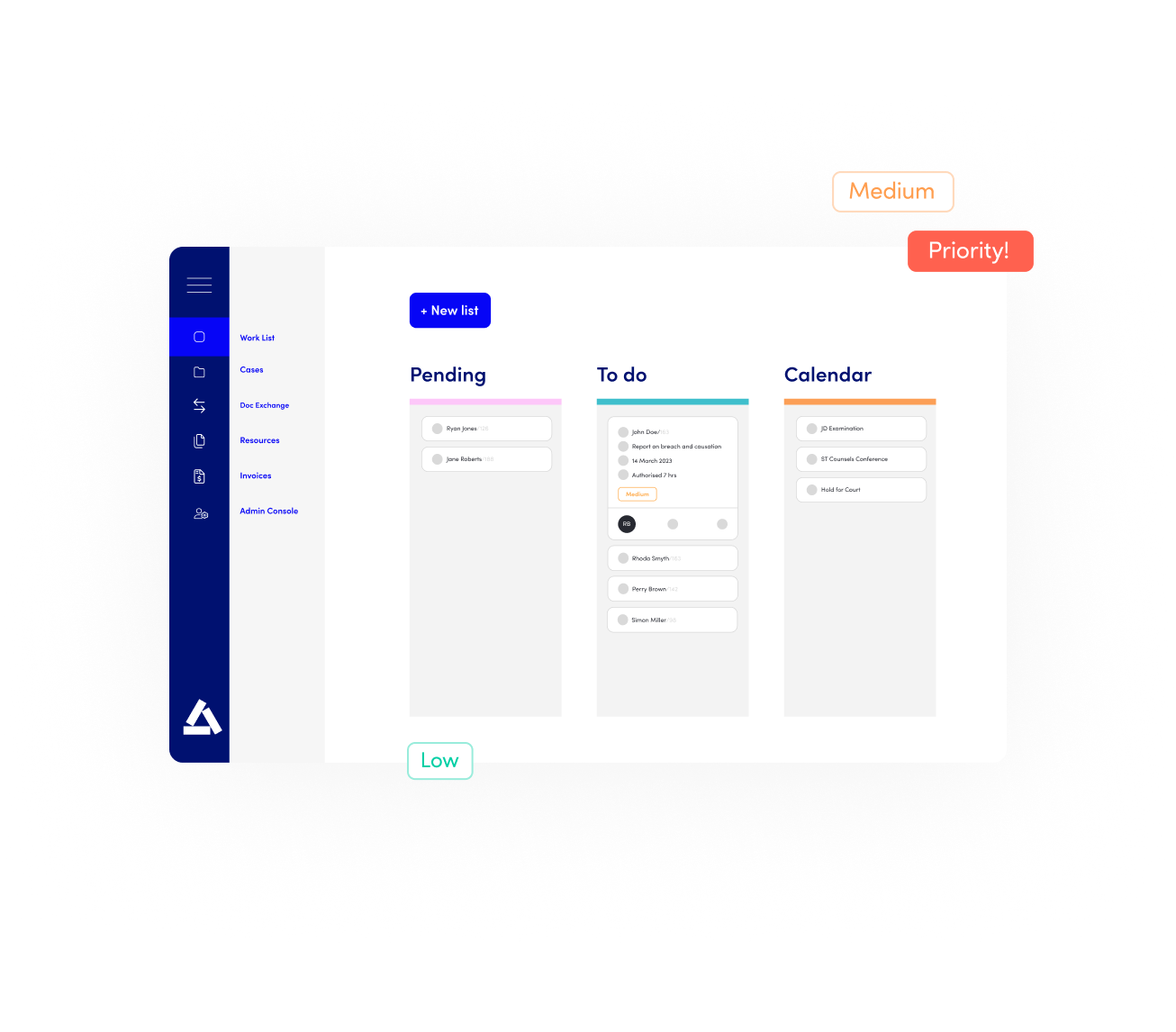 Only ever enter case details once with ALLDOQ's guided case set-up.
Automatically check for conflicts of interest.
Provide instructing parties with secure links to upload case files.
Add deadlines to create automatic alerts and notifications to keep your expert on track.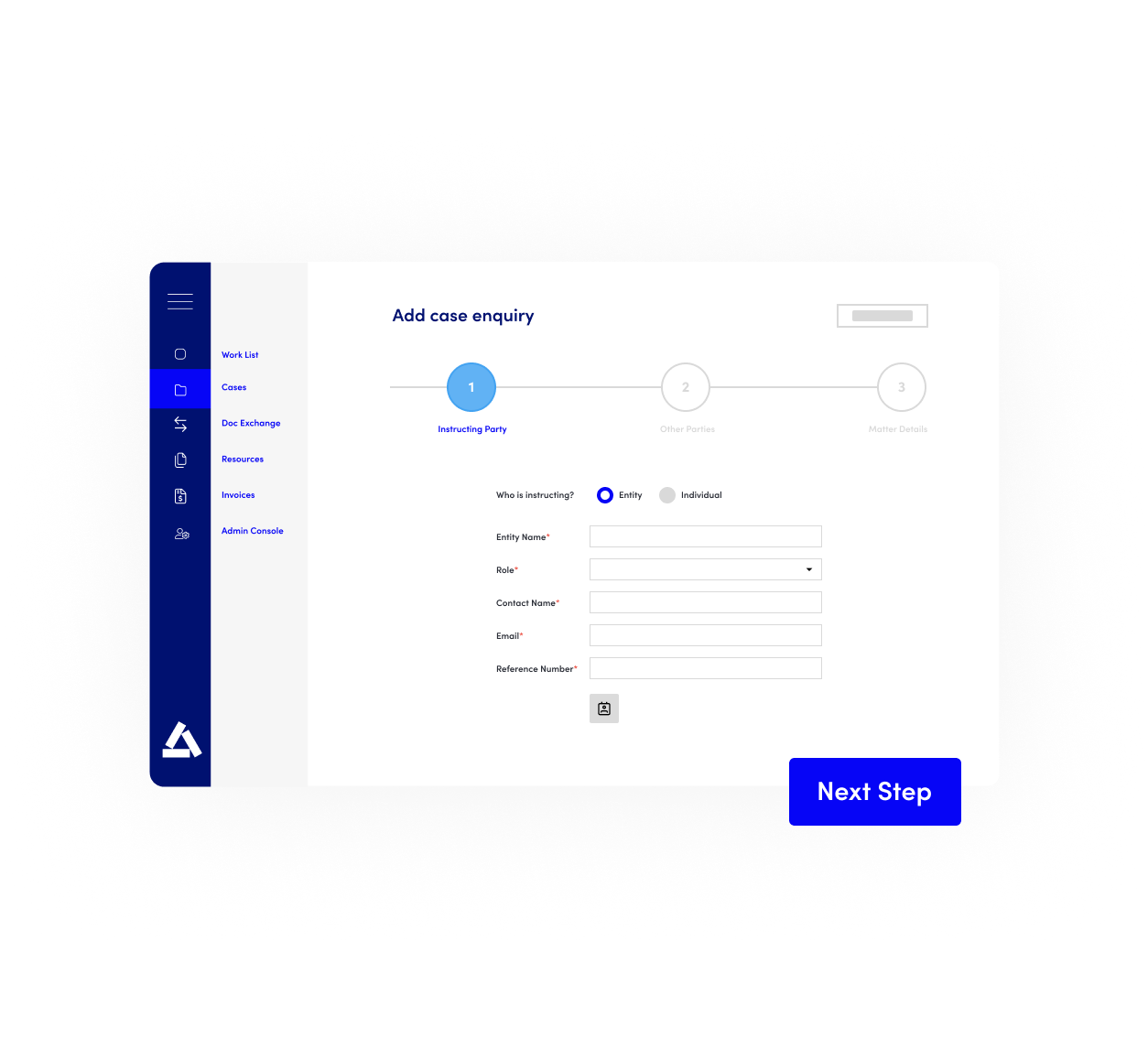 Create documents faster and more accurately.
Use the Doc Builder to create reports, letters and screening advice in a Court-approved format.
Autofill patient & case details.
Easily restructure with drag and drop functionality.
Automatically save changes. Save versions of reports.
Customise all templates to suit you.
Send from your linked email account in just a few clicks.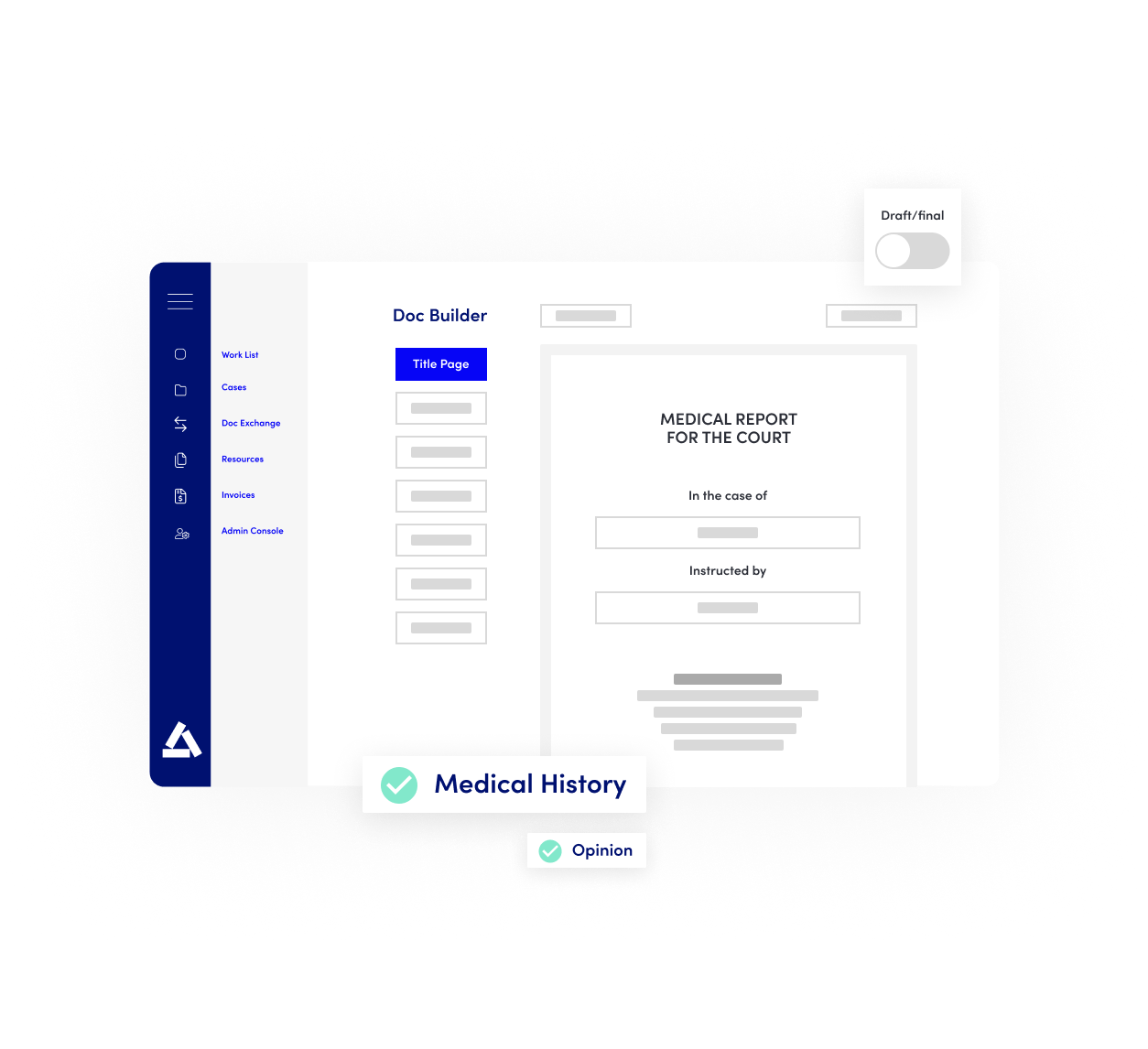 Easy time recording and invoicing
Automatically and accurately record time on each case.
Add tasks to time entries and provide solicitors with timesheets.
Create customisable invoices directly from time records.
Keep track of invoices and payments.
Integrate with popular accountancy software, such as Sage and Xero.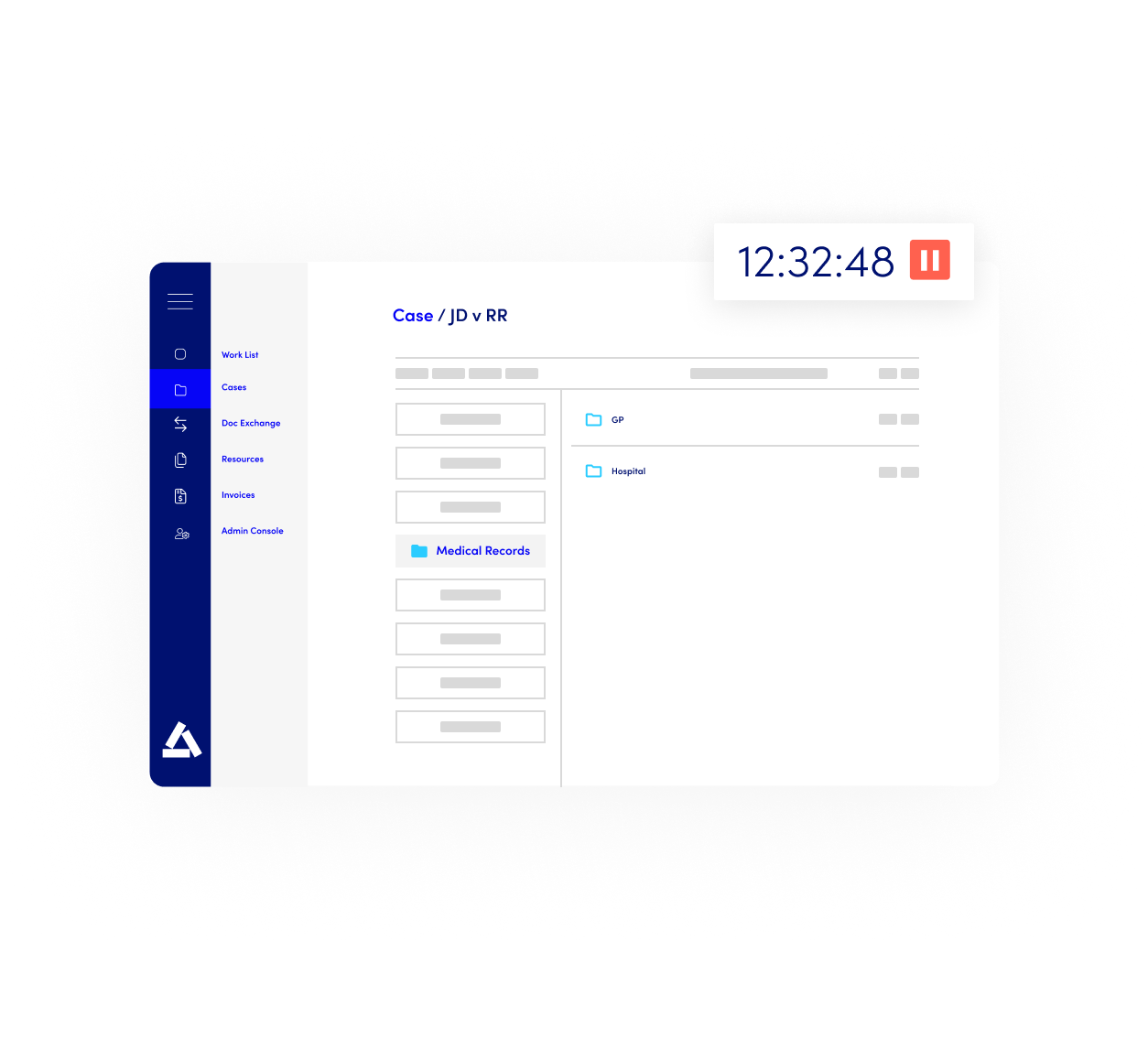 Add a medical secretary or assistant
Add another user to create a single hub for your medico-legal work.
Stay on the same page by messaging instantly within ALLDOQ and within cases.
Organise questions, requests and comments by case.
An additional user can add new cases, organise files, keep you on track, and more.
ALLDOQ creates a shared view of the work that needs to be done.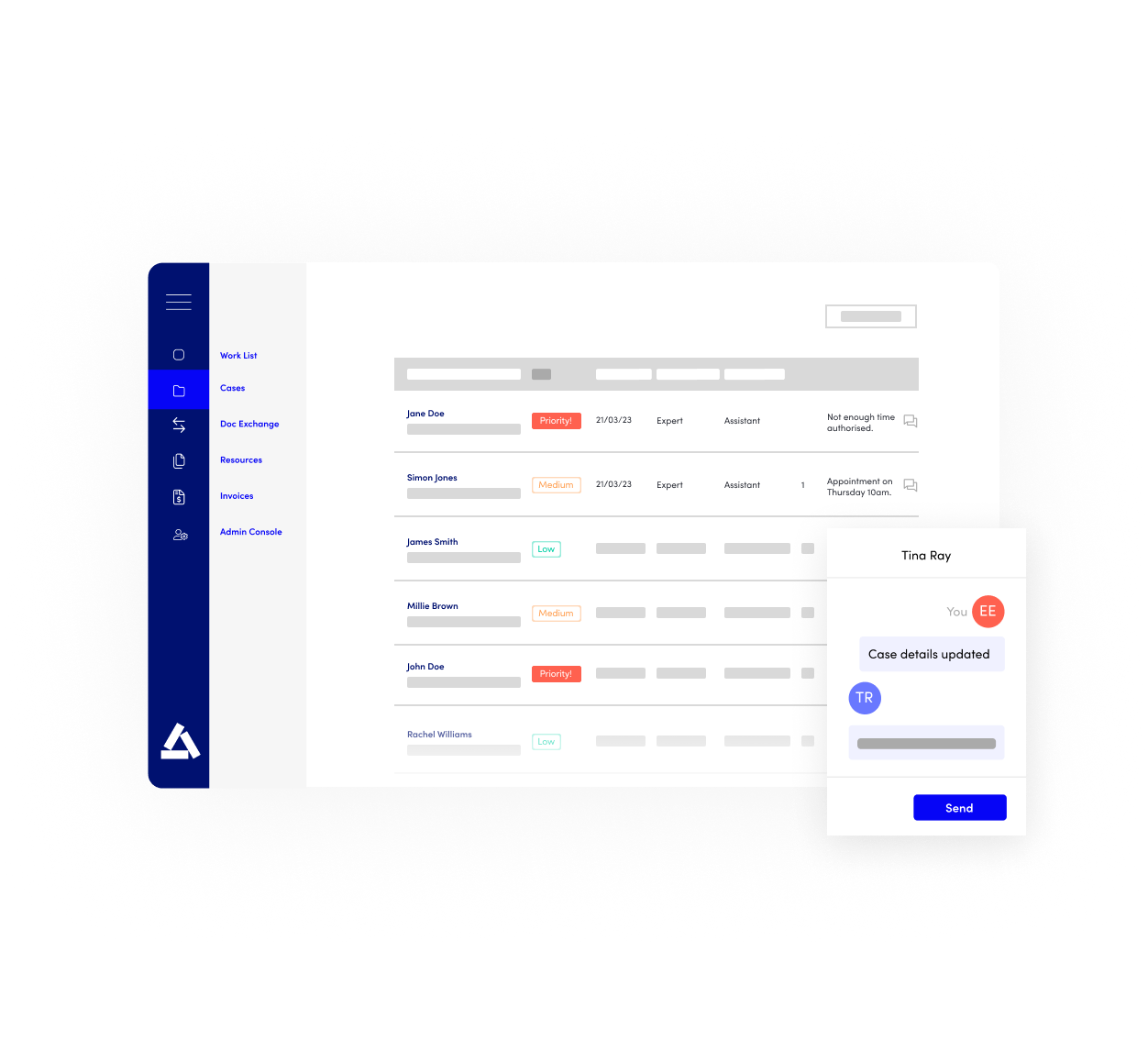 Unlimited storage of clinical notes, radiology and all other documents and file types needed to run a medico-legal practice.
ALLDOQ handles your digital security and GDPR requirements.
Benefit from the highest levels of security on UK-based, government-approved servers.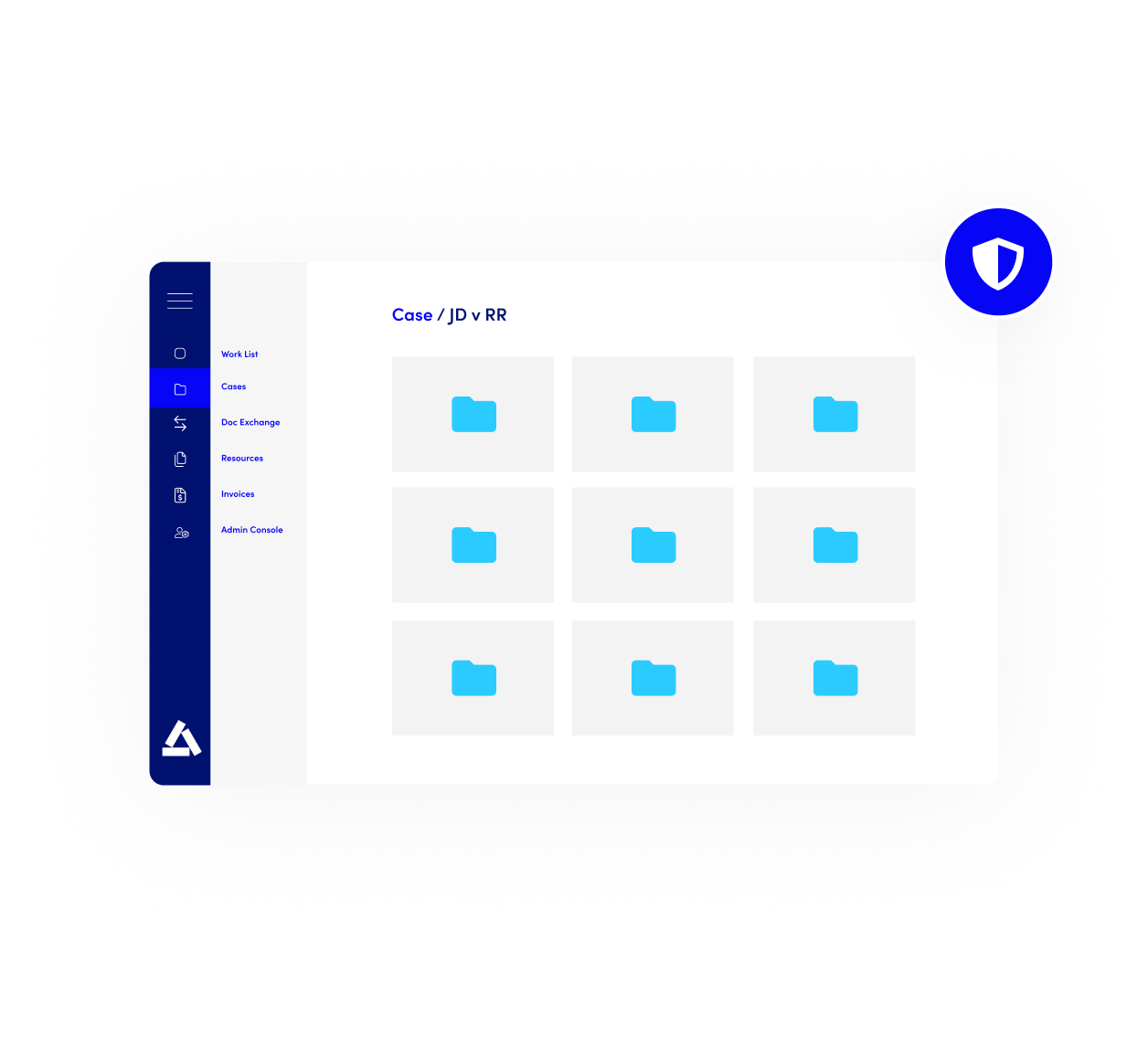 Fast, integrated radiology viewer
View and annotate medical imagery on the integrated, lightning fast DICOM PACS system.
Has the advanced functionality required by radiologists.
Compare images side by side.
Add images to reports.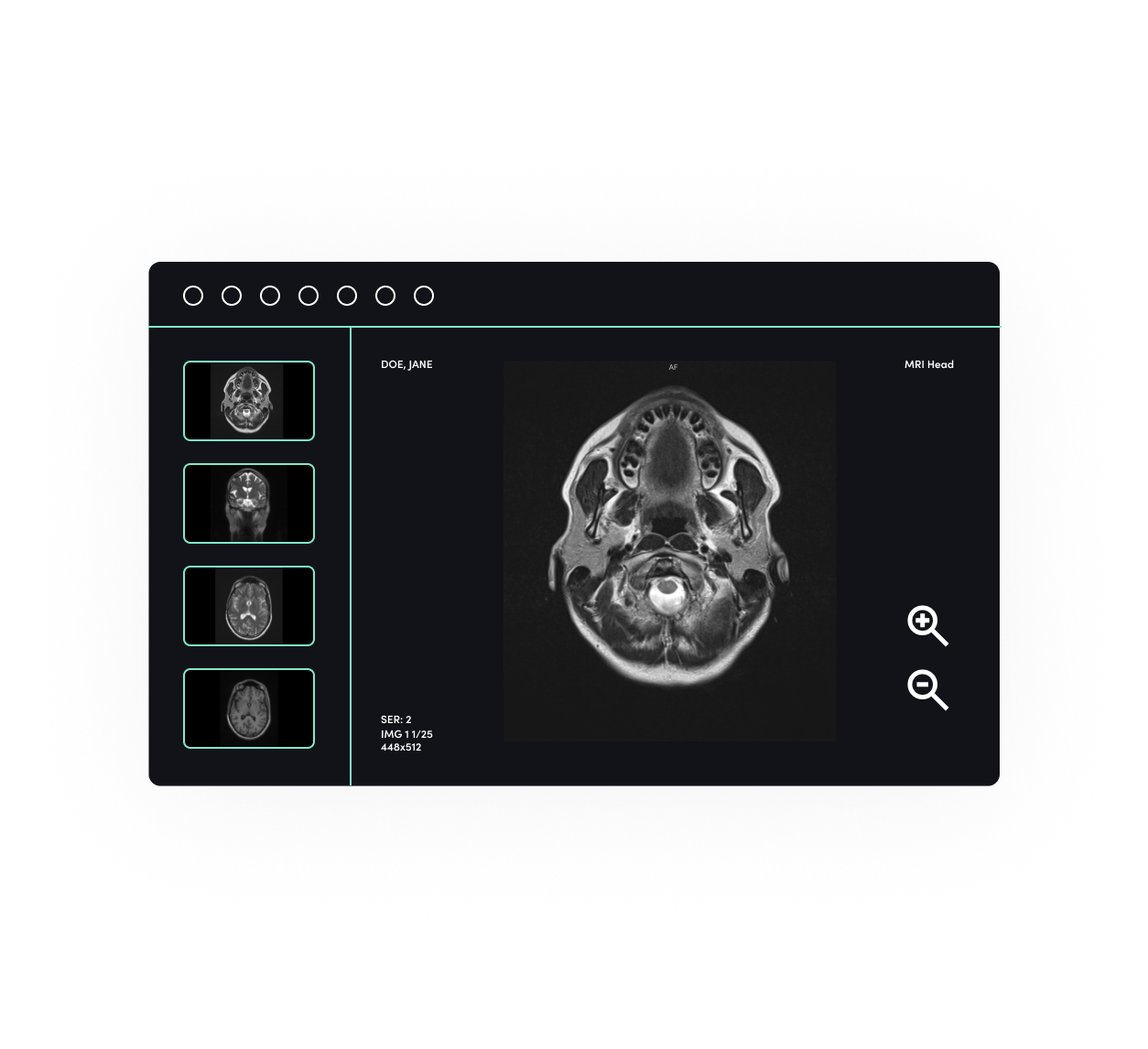 Medical records & radiology upload support
We can upload, sort into relevant folders and safely dispose of clinical notes, radiology and all other case documents for you (dependent on subscription).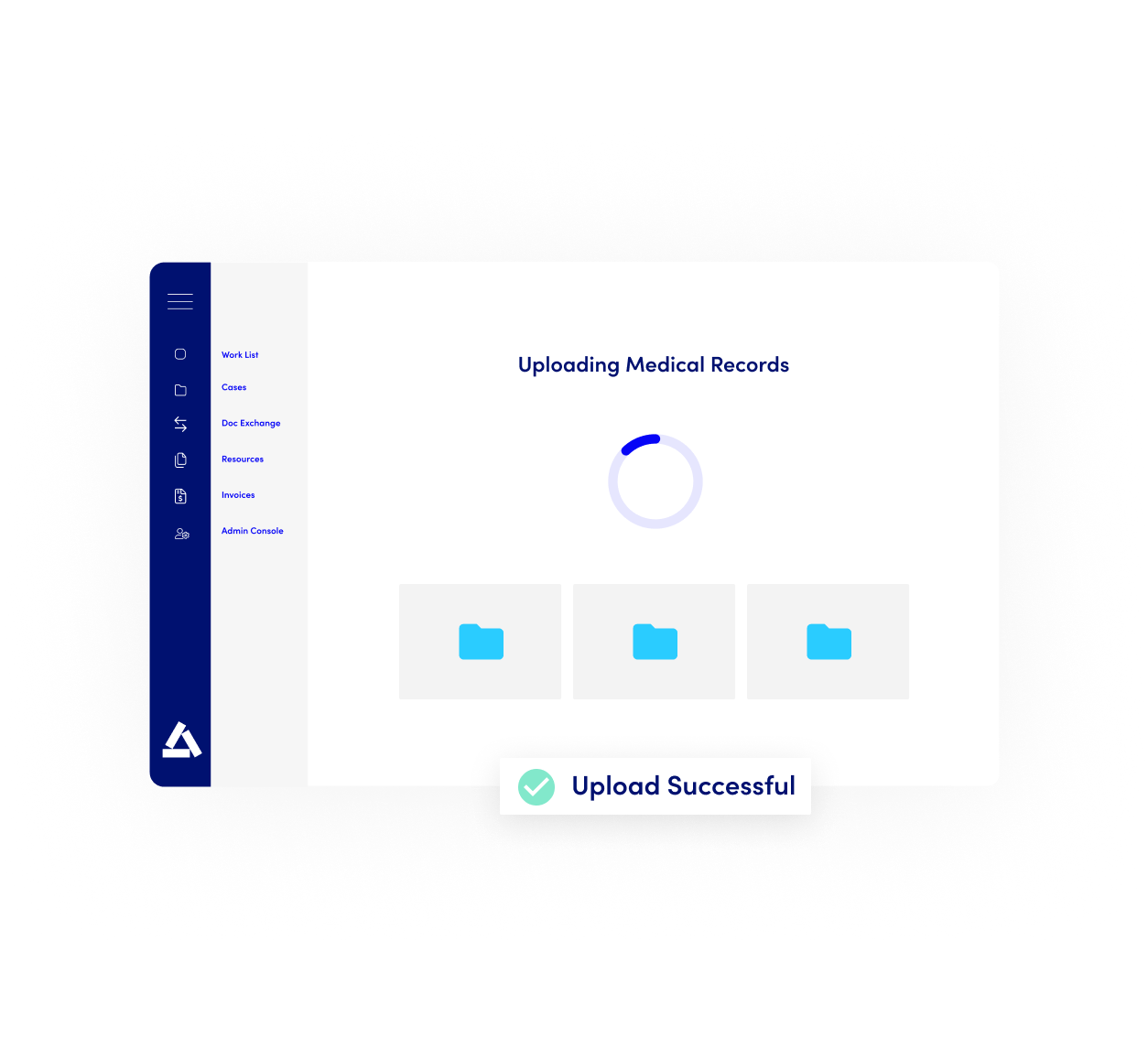 Trusted by leading medico-legal expert witnesses to steamline their work
We're often asked for recommendations for time-saving productivity tools. We've been extremely impressed with ALLDOQ. It's been designed by medico-legal experts for medico-legal experts. So, it has a lot of time-saving features. We think that ALLDOQ has the potential to revolutionise the industry.
Caren Scott
Managing Director, Inspire MediLaw
The databasing functionality of ALLDOQ not only allows for rapid access of current case files, with speedy access to the full spectrum of required information - medical, legal, radiological and administrative - but it also allows easy access to previous and future cases. As a consequence, this delivers the most time efficient system for medicolegal case management.
Dr Stephen Bianchi
Consultant Respiratory Physician
It's a fabulous system. It makes it very easy to compile a report. It's fast, logical and easy to use. And I can work anywhere. I used to travel with 4kg of notes. Now I just need a laptop.
Prof Charles McCollum
Lawyer Monthly's Vascular Expert Witness of the Year
The ALLDOQ system has made a big difference to my medico-legal practice. It allows me to have an overview of all of my current cases so that they get the appropriate prioritisation. The timer function has increased the accuracy of time spent on a case for invoicing. Having all the document in one easy to access place has probably improved my efficiency by 20-25% as I used to waste a lot of time navigating around large files. I would thoroughly recommend it to anyone undertaking medico-legal work!
Dr Alan Ashworth
Consultant in Cardiothoracic Anaesthesia & Intensive Care Medicine
Having used ALLDOQ for the last 6 months has been useful as all the cases are in a central filed system - the case building tools means that you can progress with the case straight away and tick all the material that has been reviewed - overall has saved time making it more efficient perhaps saving as much as 30% on the case time.
Dr Naveed Younis
Consultant Diabetologist, Endocrinologist & General Physician
Overall, the system is excellent. Best features include easy access, very secure, the code for the 2-FA comes instantaneously, cases are easy to navigate, and it works fast.
Dr Haider Alwan-Walker
Consultant Adult and Paediatric General & GI Radiologisti wil
As a surgeon who also does medico-legal expert work I have been using ALLDOQ for some time. It is truly fantastic. It's easy to use, intuitive, flexible, responsive and secure. I can find any piece of work with ease and calculate the hours I'm working at any given time. In my opinion it's perfect for medico-legal work and private practice.
Jeffery Lordan
Consultant Surgeon
It is great to have everything saved in a safe space where I don't have to worry about GDPR.
Dr Rachel Brown
Consultant Haematologist
ALLDOQ has improved the productivity of my medico-legal work. It provides a centralised, secure and interactive hub for all aspects of work, from instruction letters to medical records, to radiology imaging. It provides updates as cases progress, and it allows for seamless communication between all involved parties.
Mr Dan Stott
Consultant Gynaecologist
I'm all for the system, certainly convenience of access from any point and it is clearly the way ahead. ALLDOQ is by far the best iteration of any of the systems used.
Mr Derek Lang
Consultant Orthopaedic
I particularly found that resources and document exchange to be invaluable resource, especially when liaising with other expert witness. I find this to be certainly time saving, reducing access issues of different resources, back-and-forth between emails, since all this is stored in one place with easy access and visual guide to progress. Easily saves at least 20% time compared to less disorganised access to resources and hence much easier compilation of reports.
Dr Venkat Mahesh
Consultant Gastroenterologist
ALLDOQ has increased my medico-legal productivity by at least 30%. Before using ALLDOQ, I would find medico-legal work very frustrating and time consuming. The features and functionality of ALLDOQ removes that frustration and time-consuming element.
Mr Abhiram Sharam
Consultant General & Colorectal Surgeon
I really like the radiology function - that's absolutely essential. I don't have to access images through CDs any more or other software that I need to download. That used to be a real pain.
Mr Bilal Barkatali
Consultant Trauma & Orthopaedic Surgeon
ALLDOQ is a game changer.
Mr Tony Clayson
Consultant Orthopaedic Surgeon
I have used several case management systems before and ALLDOQ is by far the slickest and easiest to use. The upload speed for documents is second to none!
Anthony Evans
assistant to Mr Mark Welch, Consultant Vascular Surgeon
I've been using ALLDOQ software now since it's release. Very impressed. It's obviously been very well thought out by people who know what is required from a software system for medicolegal work. Very slick and takes the worry out of confidentiality. The timing function is very helpful (and gives surprising results) too! Highly recommended.
Jon Durnian
Consultant Ophthalmologist
ALLDOQ streamlines all my most time-consuming administrative tasks in the smoothest and most efficient way. It also provides my experts with everything they need, all in one place. And it helps them manage their workloads effectively, especially the Work List feature, which helps them plan ahead.
Annabel Fletcher
assistant to Dr Jonathan Tuck, Consultant Radiologist
Designed for the unique needs of medico-legal expert witnesses.
Welcome to your new medico-legal HQ. Making it simple to get work done.