ALLDOQ for medical secretaries and assistants
Cases can be complicated, but managing them shouldn't be.
Transform how you work with medico-legal expert witnesses. Purpose-built for the unique needs of a medical expert witness and their assistants, ALLDOQ makes it easier for you to get work done.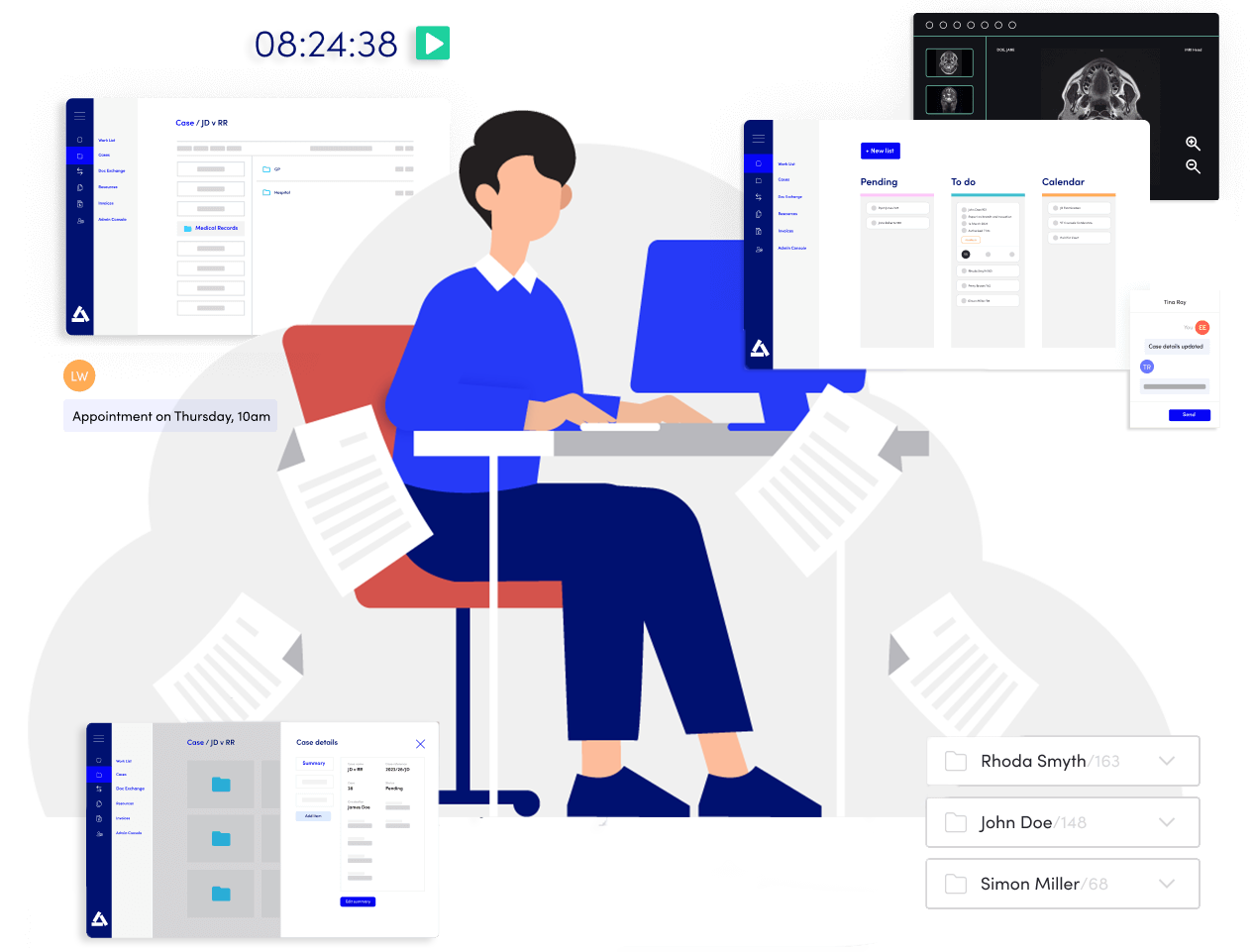 What can ALLDOQ do for you?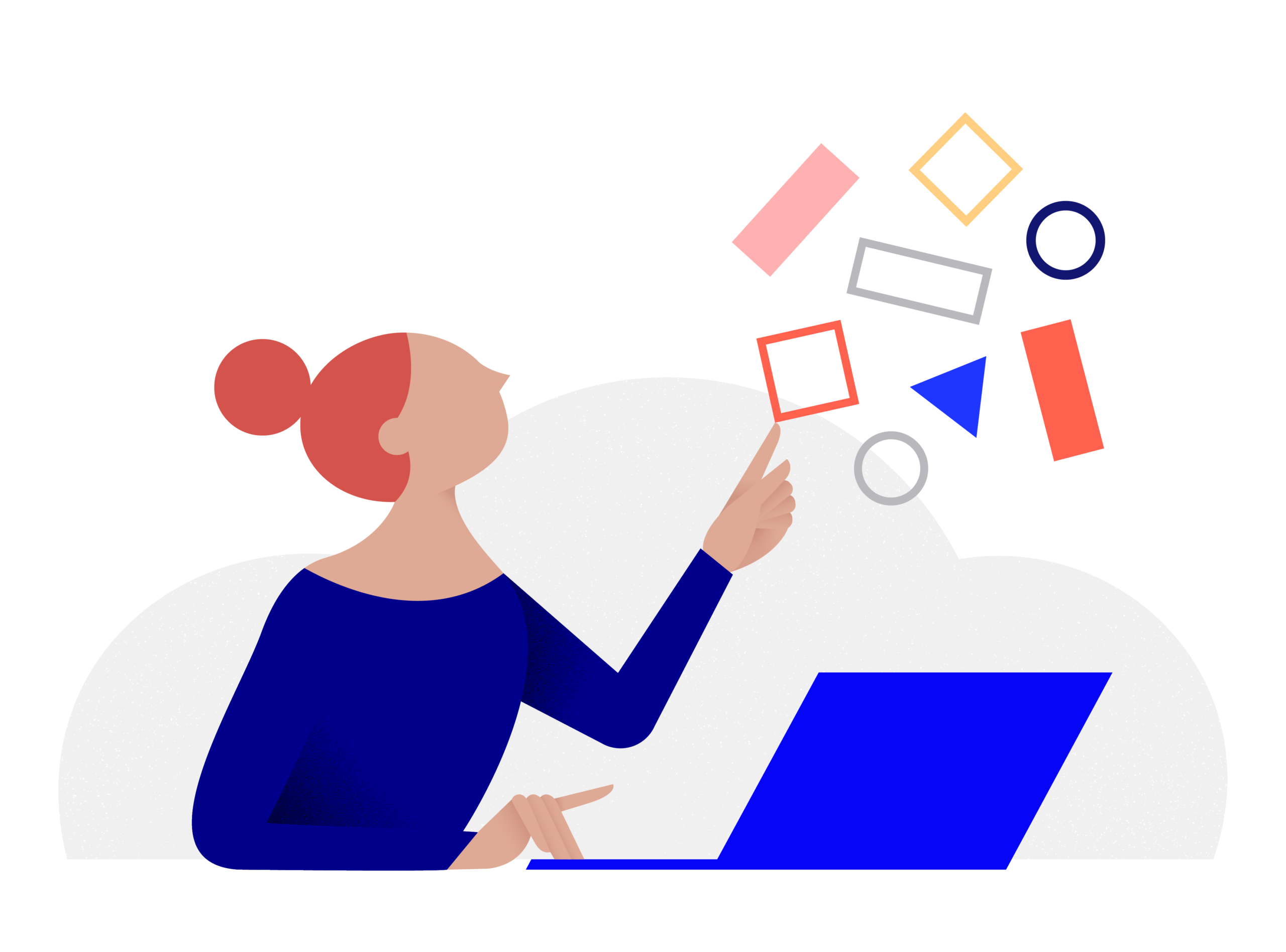 Centralise everything you need in one workspace
Connect everything and avoid the hassle of disorganised files and duplication with a single, intuitive workspace built for medico-legal expert witnesses and their assistants.
Simplify your workflow and breeze through more cases
Save time on repetitive tasks by entering case details only once with autofill functionality. Customisable templates, automatic time recording and other easy-to-use features help you and your expert deliver reports on time and on budget.
Streamline your work with specialist features & support
Never search for a password or a compatible radiology viewer again. Use ALLDOQ's proprietary integrated radiology viewer to access, view and annotate all medical imagery. Even hand the uploading and organising of medical records and radiology to us.
Oversee multiple cases effortlessly
Keep on top of multiple cases with case overviews and automatic case timelines. Stay on the same page as the expert by bringing all your communication into one secure, GDPR compliant, cloud-based platform.
Main features for medical secretaries and assistants
Stay on track with overviews and timelines
Help your expert stay on track with a single, shared view of the work that needs to be done.
Keep track of the priorities, where the expert is on each case and what needs to happen next with automatic case timelines and overviews.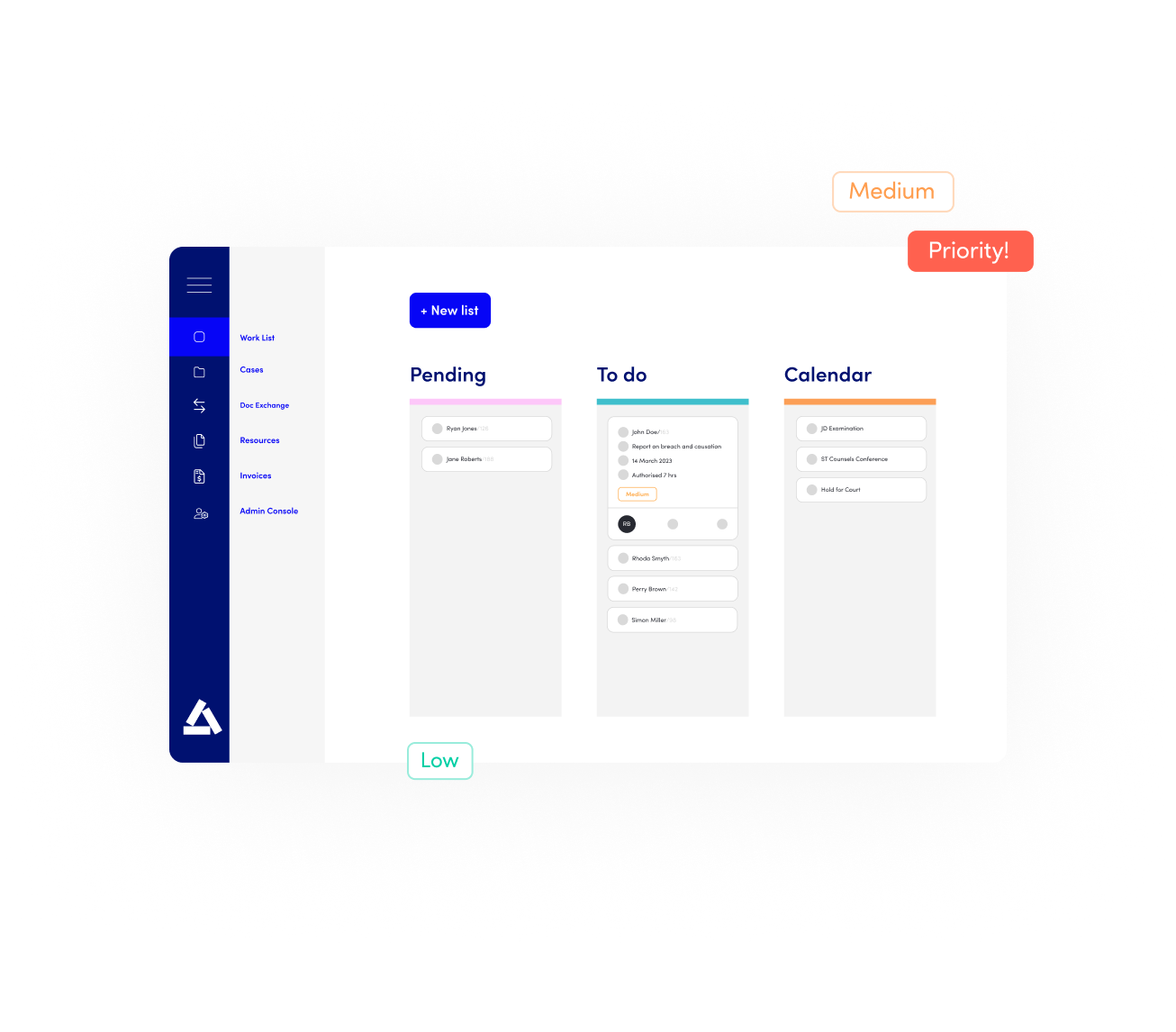 Create documents faster and more accurately.
Use the Doc Builder to create reports, letters and screening advice in a Court-approved format.
Autofill patient & case details.
Automatically save changes.
Customise all templates to suit you and your expert.
Send from linked email accounts in just a few clicks.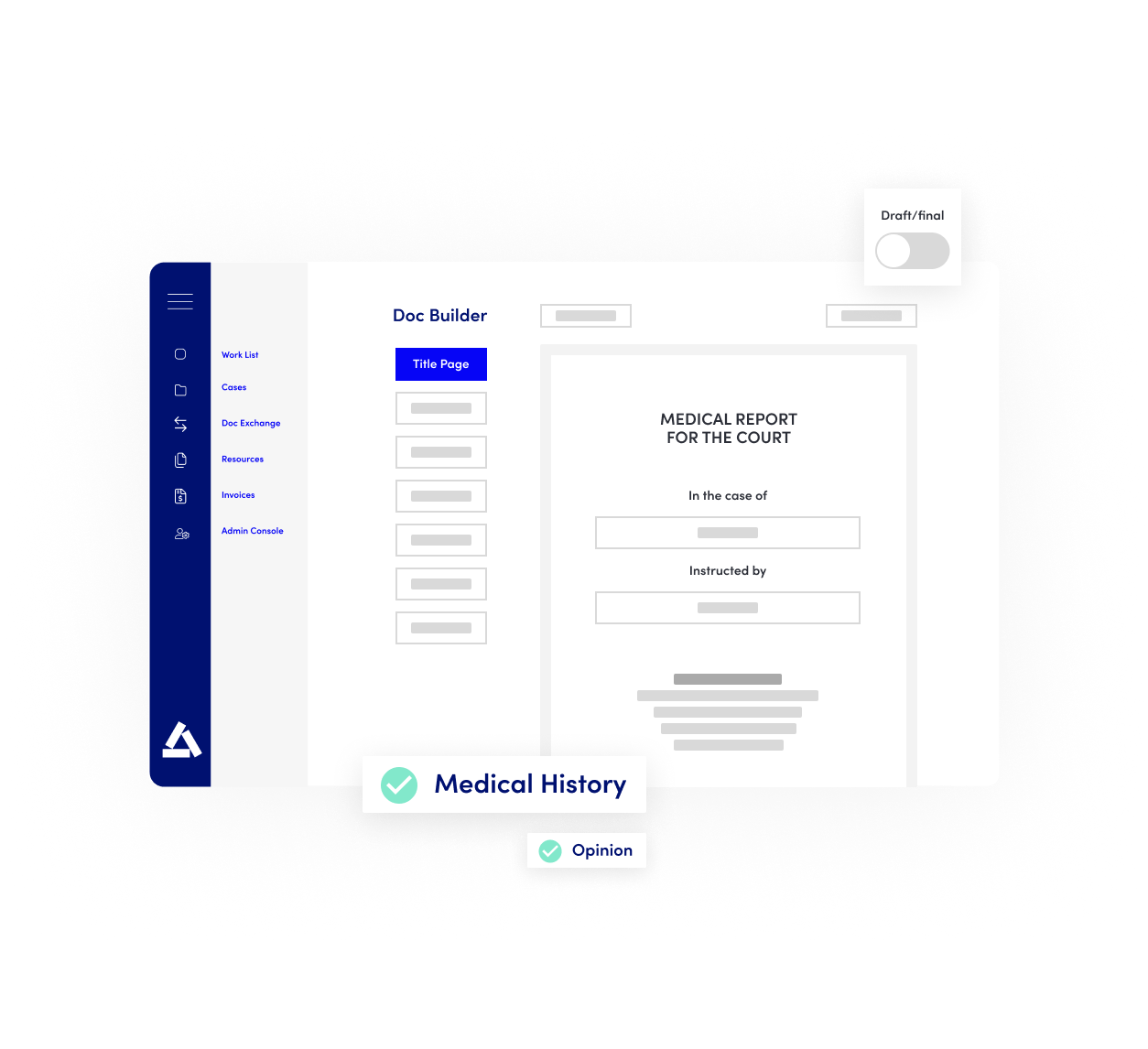 Easy time recording and invoicing
Automatically and accurately record time spent on each case.
Add tasks to time entries and provide solicitors with timesheets.
Create customisable invoices directly from time records.
Keep track of invoices and payments.
Integrate with popular accountancy software, such as Sage and Xero.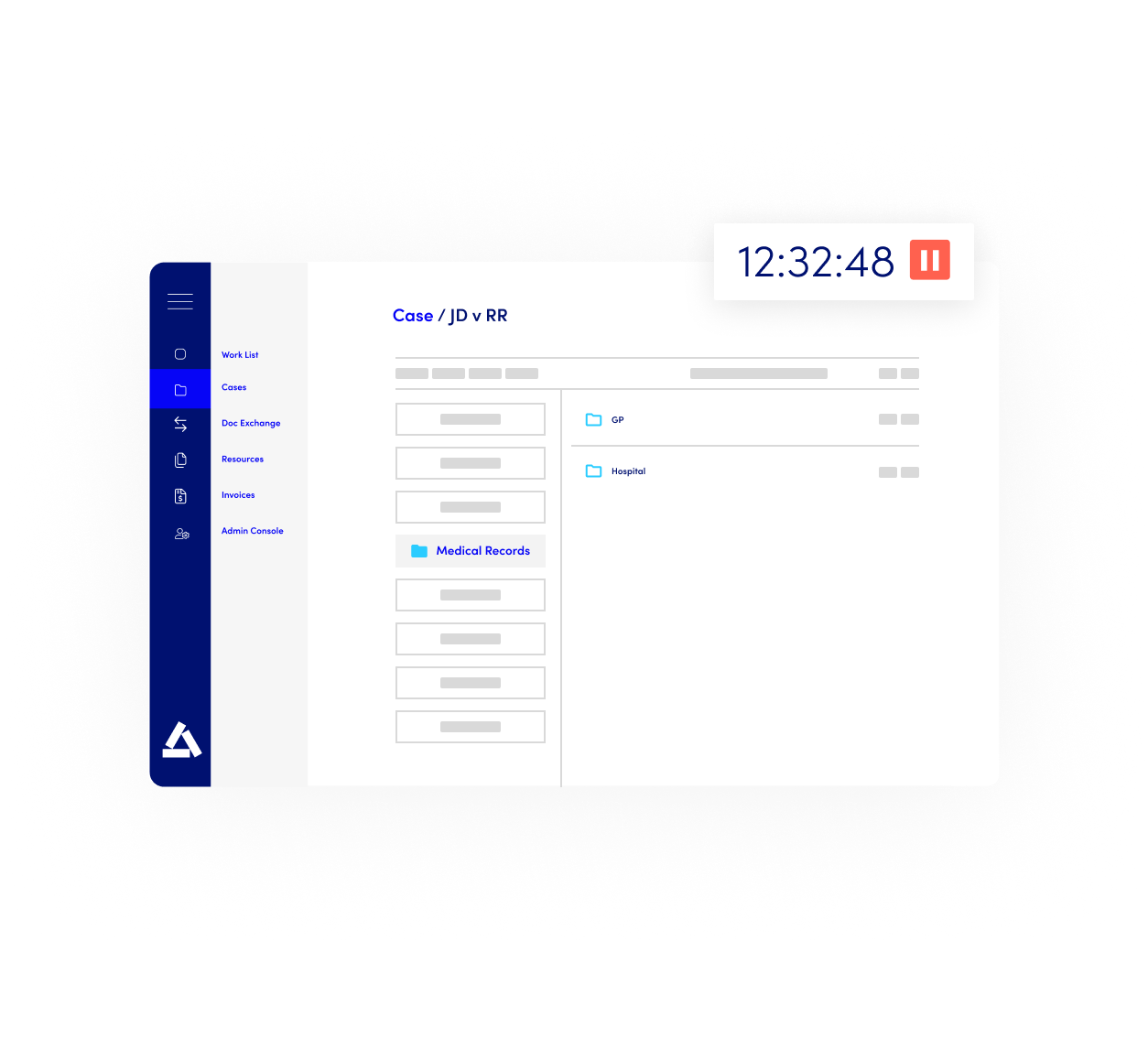 Integrate existing email accounts
Streamline your work by connecting Alldoq with existing email accounts.
Send emails securely from within Alldoq (NHS, Microsoft Outlook and Google email accounts supported).
Get a tour of Alldoq and support to get going by booking an appointment with our Support Centre.
Our Support Centre is available Monday to Friday, 9am to 5pm (extended hours coming soon).
Available by phone and email.
We aim to respond to requests within one hour during Support Centre opening hours.
We can upload all case files including medical records and radiology (dependent on subscription).
Many more time-saving features
Create automatic alerts for approaching deadlines, when new documents are uploaded, for invoicing and more.
Share reports with solicitors using secure encrypted links. Revoke access if needed.
Send letters and reports from linked email accounts in just a few clicks.

Unlimited storage of medical records, radiology and all other documents and file types needed to run a medico-legal practice.

ALLDOQ handles your digital security and GDPR requirements.

Benefit from the highest levels of security on UK-based, government-approved servers.

Learn more about ALLDOQ's security here.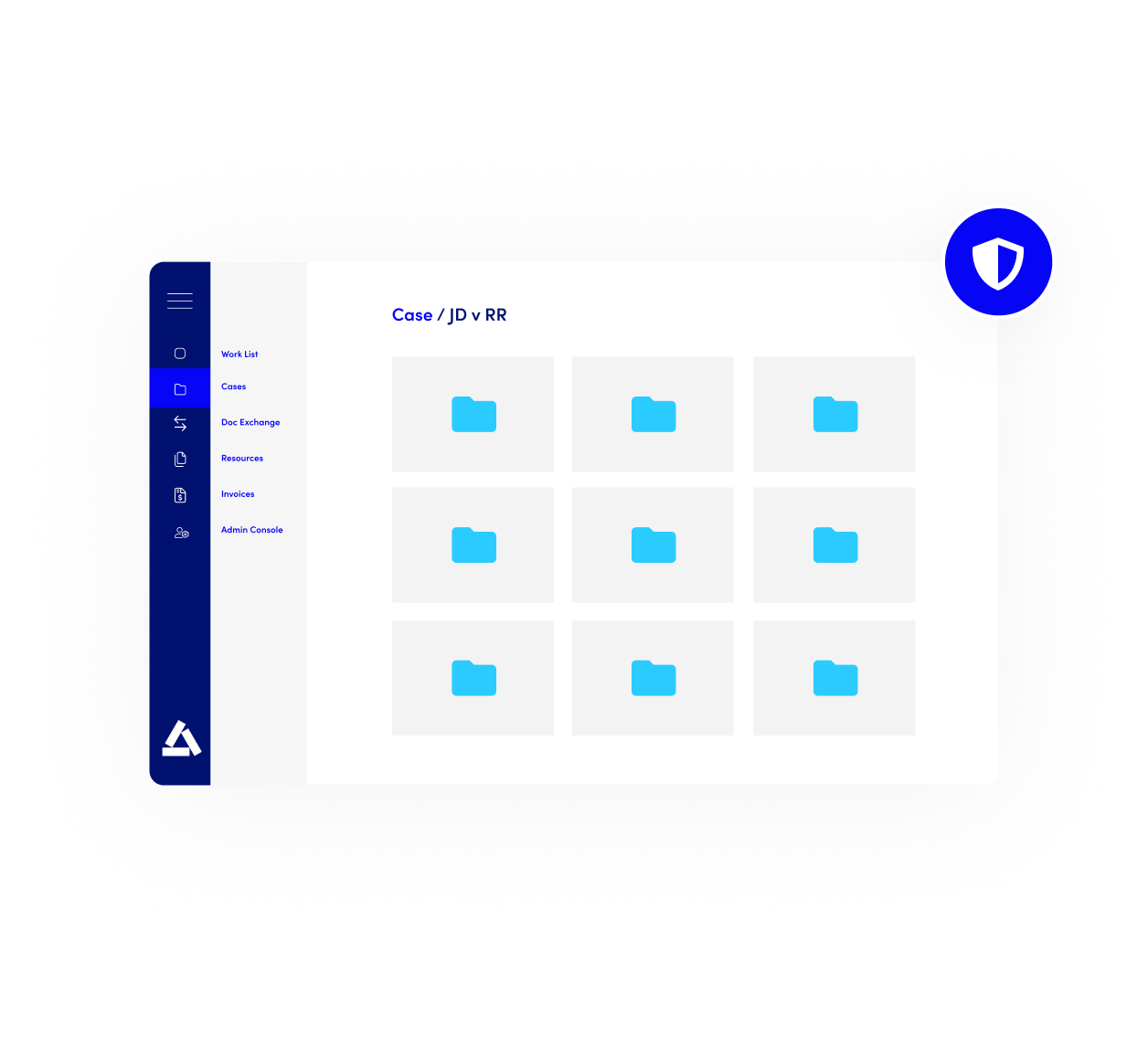 Fast, integrated radiology
View and annotate medical imagery on the integrated, lightning fast DICOM PACS system.
Has the advanced functionality required by radiologists.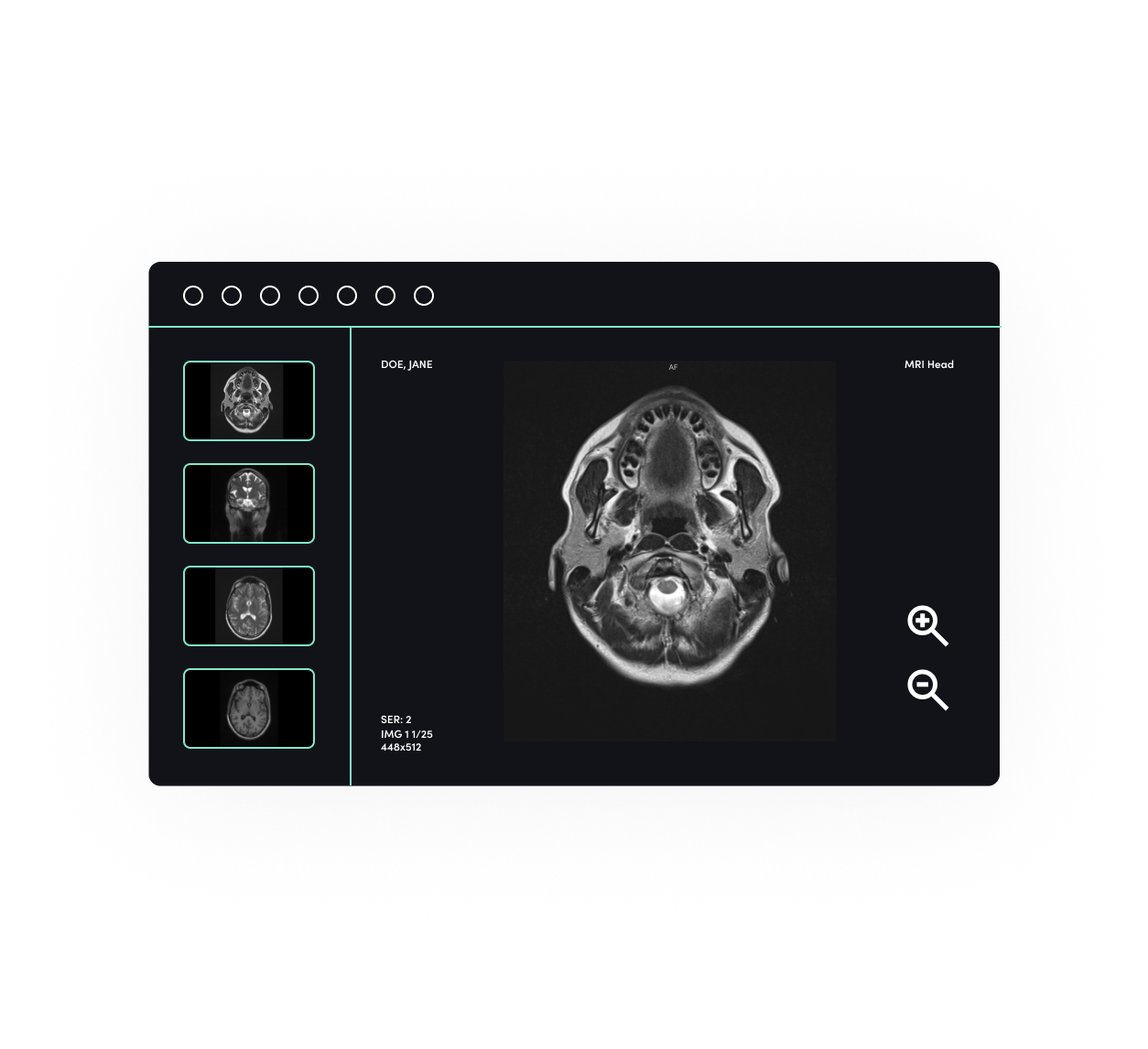 Medical records & radiology upload support
We can upload, sort into relevant folders and safely dispose of medical records, radiology and all other case documents for you (dependent on your subscription).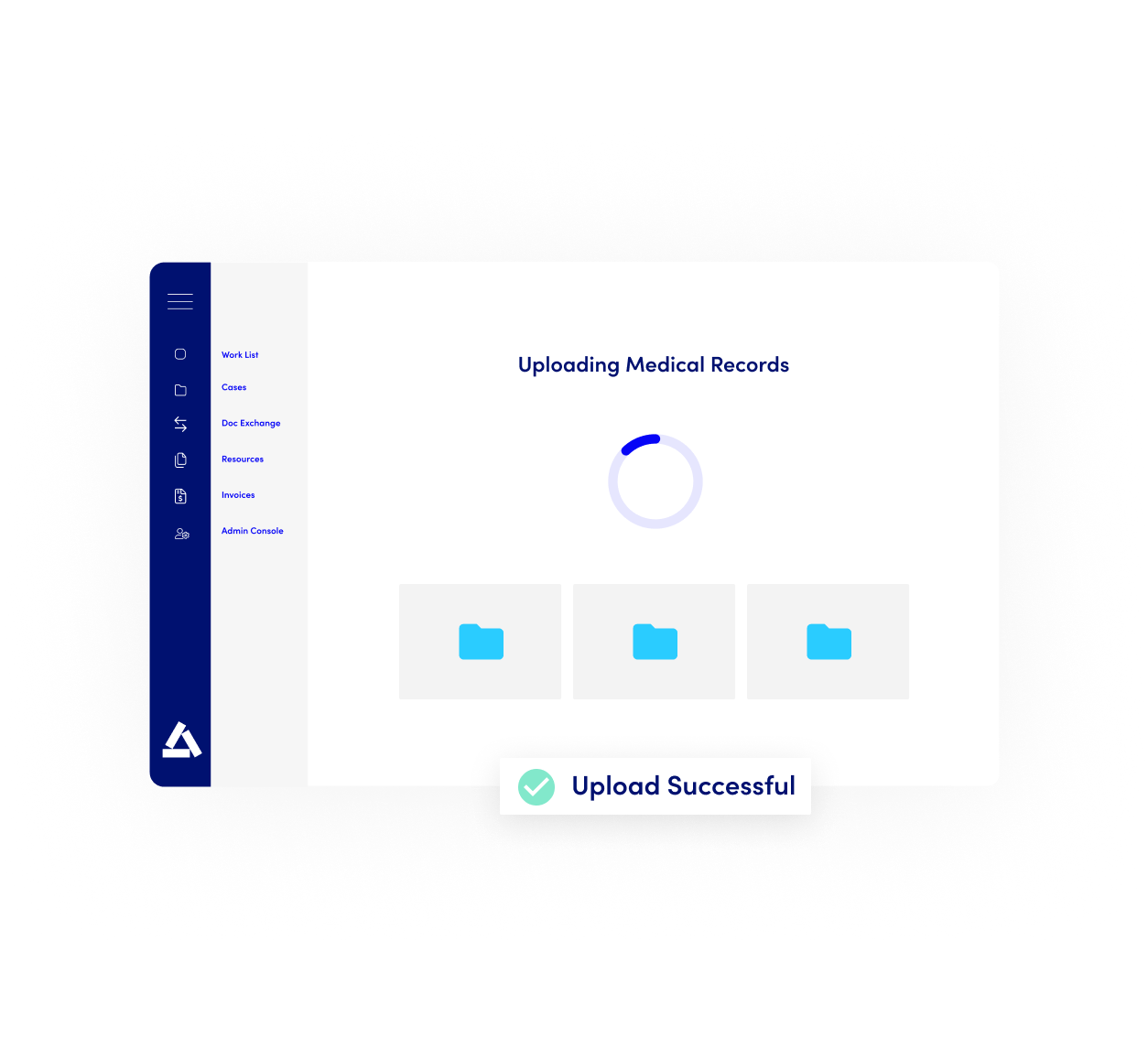 Only ever enter case details once with Alldoq's guided case set-up.
Automatically check for conflicts of interest.
Provide instructing parties with secure links to upload case files.
Add deadlines to create automatic alerts and notifications, keeping your expert on track.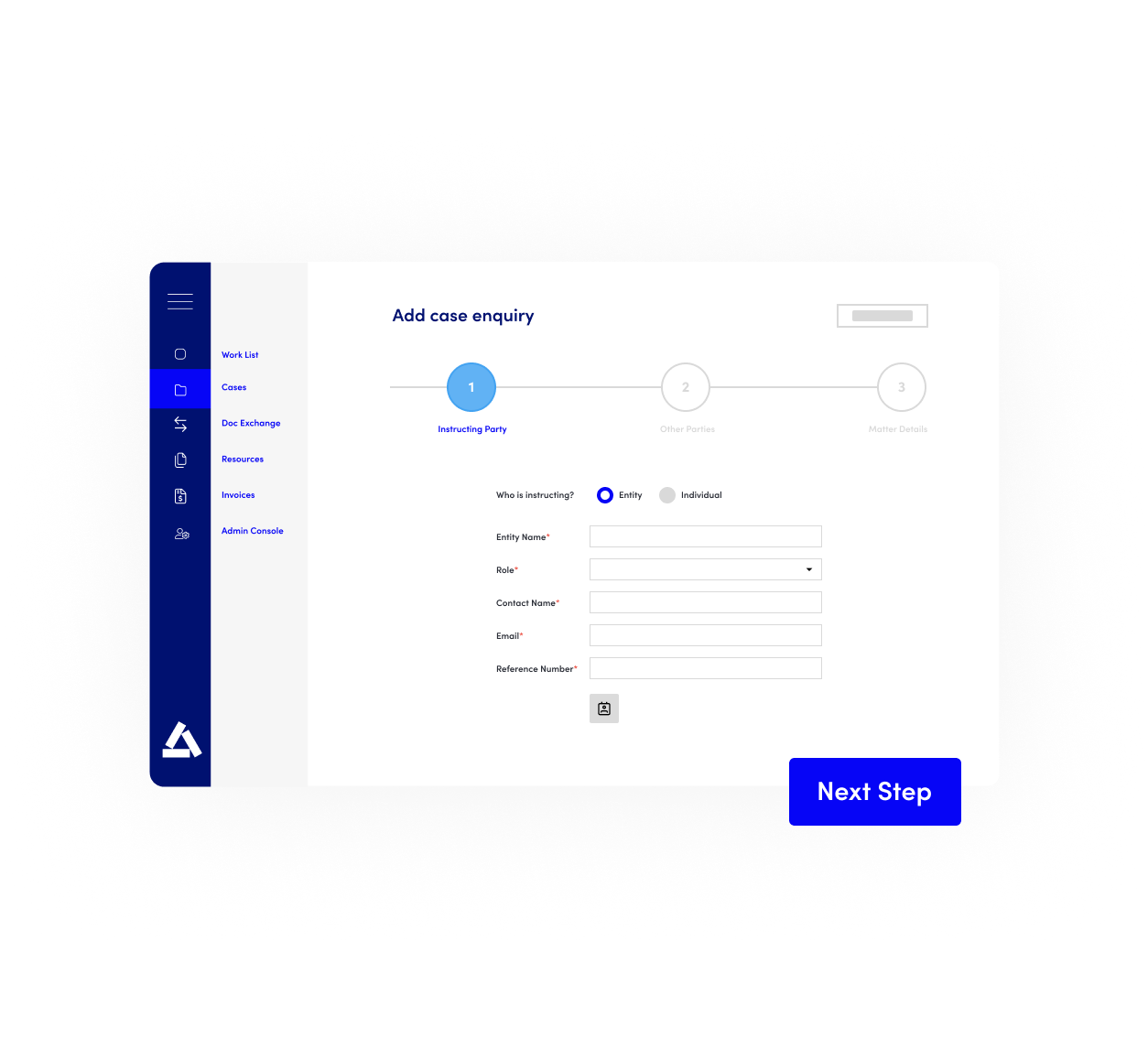 Easy, organised communication
Stay on the same page by messaging instantly within Alldoq and within cases.
Organise questions, requests and comments by case.
Create a shared view of the work that needs to be done.
Each subscription covers two users: an expert and a medical secretary or assistant.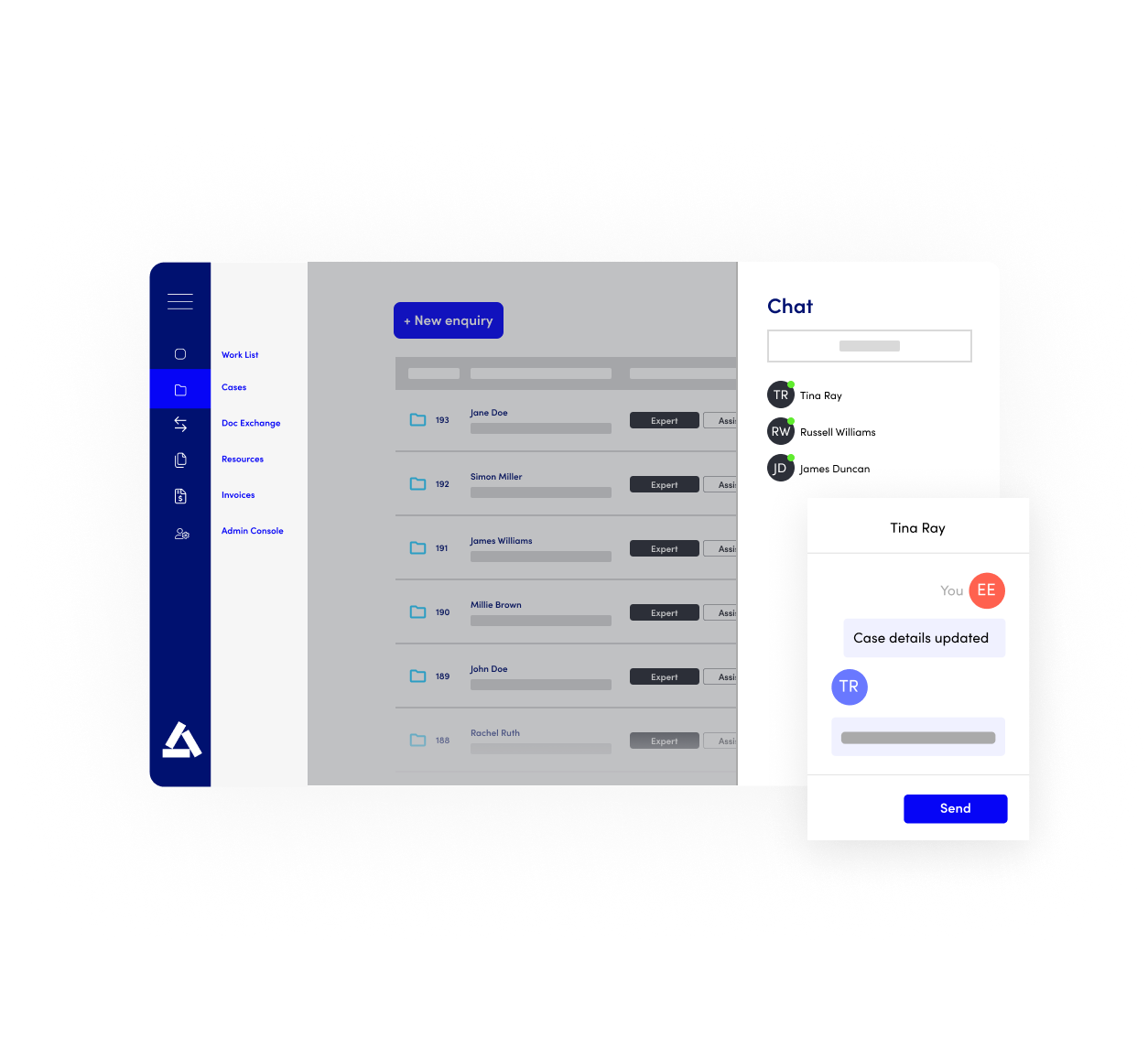 Trusted by leading expert witnesses and their assistants 
to steamline their medico-legal work
I have used several case management systems before and ALLDOQ is by far the slickest and easiest to use. The upload speed for documents is second to none!"
Anthony Evans
assistant to Mr Mark Welch, Consultant Vascular Surgeon
ALLDOQ streamlines all time-consuming administrative tasks in the most efficient, smoothest, and most polished way. It provides experts with everything they need in one place and helps them manage their workloads effectively, especially with the Work List feature, which helps them plan ahead in their busy schedules."
Annabel Fletcher
assistant to Dr Jonathan Tuck, Consultant Radiologist
ALLDOQ really helps me to organise my experts. They can do everything in one place including log their time, chat about specific cases with me and use the Work List for an overview of everything they have on. This makes everything much simpler and more efficient."
Elizabeth Wild
assistant to Mr Alun Wall, Consultant Orthopaedic Surgeon
Designed for the unique needs of medico-legal expert witnesses.
Welcome to your new medico-legal HQ. Making it simple to get work done.